Sustainable and on a budget: Is it possible?
Before getting started
There are quite a few links in this post. It is way larger than I initially thought it would be; 14 pages without images! Hopefully you find it to be a useful tool to plan your future trip to Iceland. If you have any questions about my trip, feel free to leave them in the comment section, or shoot me an email
In addition to this post, I created a Zero Waste Travel guide. You can view it here.
About the trip
I took this trip on a whim. It's a long story, so I'll try to keep it as short possible: I was looking into flights for my dad to mainland Europe, and noticed this one airlines, called WOW air, that was way cheaper than the rest. The only catch was it connected from some town I couldn't pronounce, called Reykjavik. When I shared what I found with him, we decided to meet in Iceland. For $330 round trip, we thought, why not? I have friends who've actually paid even less, like $275 round trip!
I don't want to get sidetracked too much, but here are a few thoughts on my experience with WOW air:
WOW, that plane ticket was cheap!

WOW, checking luggage costs how much?!

WOW, $2 for water?!

WOW, the plane landed safely!
Iceland's explosive tourism growth
If you are anything like me, then just a few years ago you had probably never considered going on a vacation to Iceland. What you might all not know, is that in 2008, like the US, Iceland went through a greedy bankers-induced financial meltdown. Their economy was hurting so badly, that they decided to use tourism as a means to getting out of massive debt and turn their country around.
Catalysts
It's not clear to me if there was any one specific catalyst that got the ball rolling, but here are two probable candidates:
Game of Thrones
Forgive me for say this, but I have never seen Game of Thrones, so it is not clear to me exactly when they started filming in Iceland. I found a few blogs dating back to February 2012, so presumably they started filming scenes in Iceland in 2011. It is fair to say that any Game of Thrones nut would love to see the actual site where the episodes were shot. A simple search of "game of thrones iceland tour" yields several results.
WOW Air
WOW Air was founded in 2011, offering bare bones fares for literally half the price of the competition. So, if you, like me, are looking for somewhere to travel, why not visit Iceland? They also offer up to five day layovers at Reykjavik, at no additional cost, which could be a nice and inexpensive way to add an additional city to an existing European getaway.
Is Uncontrolled Growth Sustainable?
Iceland's tourism bureau tracks the number of visitors  each year. In 2008 it was right around half a million. Last year it was 1.3 million! With a daily average of 35,300 tourists and 323,000 Icelanders, there is literally 1 tourist for every 9 Icelanders. I seriously felt like I could hardly fin
d any residents, especially while I was out sightseeing.
Source: Icelandic Tourism Board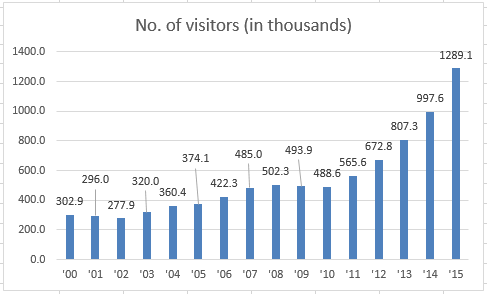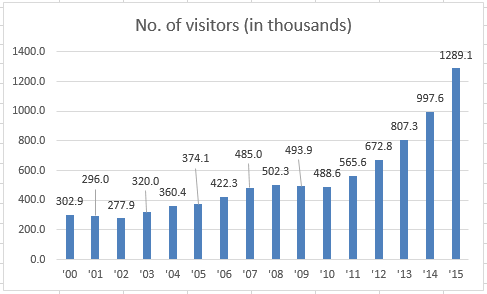 Infrastructure concerns
Iceland doesn't have much in the way of solid waste and recycling infrastructure. The best I can tell, some paper and bottles and cans are recycled, but all glass, food waste and everything else is trashed. It sounds like Iceland sends all of their materials, by ship, to Sweden to be recycled or incinerated. A lot of people are under the impression that burning trash to make energy is a good thing, but it actually is just as bad as putting the material into a landfill.
If Iceland continues to have huge year-over-year growth without improved infrastructure, I am concerned that over time, all that makes Iceland unique will slowly degrade.
The Trip
The primary focus of my trip was to investigate ways in which Iceland did sustainability well, but also not so well. By the nature of this being a blog post, I should mention that I did my best, but I'm not a scientist. All views expressed are my opinion.
Day 1 – Saturday, February 4th, 2017
Saturday was a travel day. My flight was scheduled to depart at 11:00 PST from LAX. A combination of light security lines and a delayed flight meant that I was there a little too early.
Packing
A substantial caveat to WOW Air's bare bones flights is that they don't include checked luggage. As you can see from this picture, I traveled very light, with maybe 14 pounds of luggage for a nine-day trip in freezing conditions.

Since everything on WOW Air costs money, including water, I highly recommend bringing enough food to hold yourself over. You can also bring an empty water bottle through airport security that can be filled up for the flight. In hindsight, my 28 ounce water bottle was a little small for a nine hour flight.
Day 2 – Sunday, February 5th, 2017
If you plan on taking a flight to Reykjavik that lands at 4:10AM local time, have your next step planned out in advance. I took the private bus from the airport and was at the bus terminal in Reykjavik by 5:30AM. That was problematic when nothing was open at that time and I didn't book my hostel for that night. I hopped on the bus terminal wifi in search of a coffee shop that would be open at a reasonable time. The earliest coffee shop opened at 7:30AM, but most were not open until 10 or 11AM! That was in stark contrast to Pasadena, where many places open very early. There is, however,  a huge culture for swimming pools in Iceland, since they have an abundance of thermal energy and it's cold and year-round.
Laugardalslaug 
For various reasons that I will get to later, Iceland naturally generates a lot of geothermal water. Combine that with year-round cold weather, and you get a lot of public swimming pools. Pretty much every city has at least one, and I highly recommend checking one out.
Laugardalslaug is the name of the popular public pool in town.   It opened at 8am, so I decided to go there. I would have been there right when they opened up, but there was a woman in the bus terminal who looked distressed, and came up to me to say she was looking for her friend. She asked me to keep an eye out for her while she was in the parking lot. Apparently, she had missed her flight from San Francisco the previous Thursday and was trying to connect with her friend so that they could stay in a camper van.





It was about a two mile walk and I made it to the public pool around 8:30am. It was 900-something krona to enter, or about $8. The man at the counter reminded me that I must thoroughly bathe, fully nude, before entering the pool. He made a point to emphasize the fully nude part. From what I had read, Icelanders have a very strict bathing policy prior to entering public pools. This was one of the weirdest experiences of my life. There was literally a shower guard who sat in a chair and made sure that I was naked before getting in the public shower. There were even signs posted that showed the areas you must focus on: feet, genitals, armpits and head.
After showering I was required to put my bathing suit back on—I mean on, then headed to the pool.
The outdoor hot tub was large and very hot. There was an Olympic-sized swimming pool that was connected by a small waterway to the main pool, which was huge, but not super hot. Given the fact that it was 1 degree Celsius when I arrived, I stayed in the hot tub. Even at 9:15 it was still mostly dark; not pitch black, but definitely not light either.
It was nice to watch the sun rise over the horizon, but early on a Sunday morning was definitely not prime pool time. As I left, there were a lot more individuals and families headed to the pool.
Hallgrimskirkja Church (map)
The official Church of Iceland is the Lutheran Church. About 30 years ago they built this Hallgrimskirkja Church, right smack dab in the middle of town. It is quite beautiful, with a large eight story steeple, as well as a 532-pipe organ.
With nothing to do, I attended the 11am service. I expected such a grand church to be full, but mass wasn't crowded. There service was in Icelandic, so didn't know what was going on, but I was able to follow the structure, which was similar to Catholic mass. I was having trouble staying awake, but pushed through.
Aurora Guesthouse
My dad found this place online. The room was small, but nice, with a shared kitchen and bathroom. We stayed in a room off the main hostel, so it was much more quiet and cozy feeling, which was nice. I would have been fine sharing a room with a dozen of my closest strangers, but he prefered something more private. Our private room was about $75 per night, compared to $25-40 for a shared room.
Kolaportið Flea Market
Since I had time, I was dying to check out this place. I had heard that good in Iceland were expensive, so obviously a flea market was on my list.
I won't say it was a letdown, but it wasn't quite as nice as I was expecting. Sure, there were plenty of used items for sale, but there was also a ton of new, not-so-nice items, like tourist chotchkies and cheap made in China reading glasses.
If you are wanting to check this place out, keep in mind that it is only open on Saturdays and Sundays.
Day 3 – Monday, February 6, 2017  
Free Walking Tour
My dad and I went on a walking tour of Reykjavik. Whenever abroad I seek these out, because they help orient me to the city, taking me on foot through the central district(s). In addition, l meet other tourists with whom I talk travel ideas, a local guide who's filled with tons of knowledge and insight, and best of all, they are admission-free; simply tip the guide at the end of your tour.
Our tour guide was probably 6'5," slim, but lean, with red hair. It was about 35 degrees Fahrenheit out, so most people wear gloves and a beany, or at least a baseball cap. Not this guy. He head was pink. When I asked him if it was normal for native Icelanders to walk around without hats, he replied that his girlfriend thought he was crazy. He also said that he's 9th cousins with his girlfriend. Apparently the furthest two native Icelanders can be is 13 steps. There's even an "Anti-Incest" app available, but he said that people would think he was weird if he had it installed on his phone!
Day 4 – Tuesday, February 7, 2017
Car Rental
In Iceland, weather conditions can change instantly. As I walked to pick up our rental car, it started to rain like nothing I had ever seen before. I didn't have an umbrella and ended up jogging most of the way there. As you can imagine, I was pretty soaked by the time they got there. The rain should have made me rethink my choice in cars to rent, but it didn't! Check out my Hyundai i1.0, a one liter, four cylinder, tin can. It was underpowered and the belt squeaked. This car would have been okay under normal conditions, but in hindsight, I should have upgraded to something larger, with more power.
I rented our car from SAD Cars. The name is about as honest and accurate as you will get. I was expecting an older, higher mileage car. In reality, what I got was an older, higher mileage car, that was not being maintained. SAD Cars are less expensive than others, but probably not worth risking getting stranded in a snowstorm over.  
Hellisheiði Power Station
Iceland is known for its geothermal power. This power plant, which is one of its flagships, produces 303 megawatts of electricity and up to 400 megawatts of thermal energy, making it the largest facility of its kind in the world. Drills bore down 7,200 feet, which enables water and steam to rise to the surface. The water is very hot and gets piped about 30 miles to Reykjavik, where it is used to heat homes and provide hot water for bathing. The steam is sent through four primary and one secondary turbines, generating electricity.
Geothermal water and energy are really cool, and renewable, but does that make it sustainable? Since these sources were abundantly available, no one seemed to be interested in conserving them. Most homes had coiled pipes that looked like traditional space heaters mounted on a wall or two in each room. But, instead of coils using electricity to generate heat, hot water flowed through them. This allowed for homes to maintain a steady temperature, even when windows were left open. And yes, it seemed to be a common practice to leave windows open with near freezing temperatures. Most people with a traditional gas central heating system wouldn't leave windows open while it was running.
Sinks and showers were like nothing I had ever seen before. Like most places, could water was filtered and absolutely amazing. Hot water for bathing and washing dishes was completely unfiltered geothermal water. Since it came through the same pipes that heated the homes, it was instantly scalding hot. Imagine turning on your shower, without owning a hot water heater, for it to be instantly hot. Since it was unfiltered it had a bit of a sulphur smell, which was probably good for your skin, and didn't bother me.
Agricultural University of Iceland
I felt overwhelmed trying to figure out what I would do on my trip.  I knew I wanted to see examples of sustainability in action, so it made sense that I would reach out to the Agricultural University of Iceland. Since the weather in Iceland fluctuates between cold and colder, produce can't be grown outdoors. As a result, they have turned to greenhouses for help.
In a similar system to the way homes were heated, large coiled pipes ran through the greenhouses, which heated them up. Since there wasn't much sun, low-pressure sodium lamps (think old school street lights) provided light. These two items, in concert, created an artificial greenhouse effect.
These greenhouses grew tomatoes, bell peppers and leafy greens. Since it was a university, they were also experimenting with bananas, which makes perfect sense when considering the fact that bananas were imported from Central America.
Day 5 – Wednesday, February 8, 2017
Pingvellir National Park
One of the more popular things to do in Iceland is visit this national park, which is along the Golden Circle. My dad and I had full day of sightseeing planned, but our day didn't go according to plan. One of the things I did not appreciate nearly as much before this trip was just how powerful Mother Nature was. It had been raining the whole day, but what we (or at least I) had not expected, was just how quickly the weather could turn. As I previously mentioned, I had rented a rust bucket of a micro car, which did okay in the rain, but absolutely horribly in rain with added gale force winds.
Despite my dad wanting to turn around, I pushed forward,driving us into the park. We looked at a few things, then returned to Reykjavik. The rain was just too hard, the wind to strong, and the visibility too low. We literally couldn't see mch of anything.
Perlan
Perlan was originally built to be six hot water storage tanks. At some point it was decommissioned, and, at the time of my trip, was in the process of being transformed into a gallery featuring the works of local artists. One of the benefits of the design is a 360 degree view from the top floor observation deck. It was under construction while we were there, but would be worth checking out when it is finished.
Day 6 – Thursday, February 9, 2017
Blue Lagoon
There is a geothermal plant a few miles outside of the small fishing town of Grindavik. As I mentioned previously, thermal water is in abundance throughout Iceland, so it is common to pipe it into public swimming pools, which are everywhere. The Blue Lagoon is no exception, except over time they have built it out to look like a mythical lagoon. From speaking with locals, the Blue Lagoon used to be an inexpensive, less developed, locals hangout. Overtime, however, it has become so popular that they are constantly looking to expand it. If you are looking to visit the Blue Lagoon, you must make a reservation at least three weeks in advance. Expect to pay $60 for the entry level package, which doesn't even include a towel. If you do not make a reservation, they will not let you walk in.
I didn't do much prep for this trip and thus was unable to reserve space at the lagoon. My dad and I decided to stop by anyway, but were turned around. Well, not exactly. The facility opens at 8AM and we arrived at 8:30. We entered the standby line, which was empty, whereas the other lines were long. When someone finally came up to us, we were told that the place was completely booked, that was unless we wanted to pay the $60 entry fee, plus an additional premium upgraded package for $200…oh,and we would have to return at 5:30. No thanks.
Bryggjan
After our failed attempt at entering the Blue Lagoon, we decided to drive into Grindavik. This town was small, with a non-existent downtown. I hopped on the Internet in search of a coffee shop, and found Bryggjan. Founded in 2012 by a local couple, Bryggjan's largest draw comes from the fishing industry. The place was cute, but quaint, and run by owner-operators. It appeared to be a husband and wife team. She worked the counter while he worked the crowd. The man seemed to love telling my dad and I everything there was to know about the politics of their two largest industries, fishing and tourism. My dad noticed that the woman was practically rolling her eyes, as if it was the millionth time she had heard him tell his stories.
While we were there, we noticed that there were quite a few fishing boats docked. According to the shop owner, the fisherman had been on strike since December, protesting the infiltration of a new generation of boats which were equipped with more automation, and required fewer fisherman.
I don't necessarily recommend checking out Grindavik, but if you do, this coffee shop is worth checking out.
Grindavikurbaer
I refer to this place as the secret volcano hotspot. The shop owner at Bryggjan insisted that we go check out this active volcanic area, ensuring us that no tourists knew about it. He was so excited to share this place with us that he grabbed a blank sheet of paper and sketched it out for us. once he was finished with his makeshift map, he circled an area and said, "There is a sign here that says, 'Private property. No trespassing.' Don't worry about it. That's just to deter people."
I'll tell you what. That guy's map was on point, taking us exactly to where we needed to be. That place was awesome. There were several sections of earth that were hot to the touch, with steam percolating up into the air.
I wonder how many times that guy had drawn that map and how many people had actually taken him up on his suggestion. If you find yourself in the area, I highly recommend checking it out. In fact, if you are going to stop by that coffee shop too, do the volcano first, so you can tell him about how you found out about his secret spot!
Reykjanesfolkvangur
On our way back into town, we decided to take the scenic route through Reykjanesfolkvangur Nature Preserve. Iceland is beautiful, and this preserve was no exception. We passed fields of lava rocks, natural mini geysers, and a beautiful lake. On that few hour detour, we saw maybe a handful of cars. The solitude was both humbling and serene.
Life seems to more just a tad bin slower when you are out in nature, alone, without no one around. I found myself driving slower and pulling over constantly too take in the views. If you decide to drive through this preserve, pay close attention to the road! It was one lane in each direction with no shoulders. Add in some beautiful scenery and it is an accident waiting to happen.
Mengi
I had heard a lot about the creative and talented artists and musicians of Reykjavik, so I was excited to find a music event that coincided with my trip. Mengi was a small art gallery, situated right off one of the main downtown roads, Skolavordustigur. It was a small, narrow rectangle, that dropped down maybe four or five oversized stairs to a lower level. This setting made for an intimate performance.
The performer of the night was called Thelma. I really enjoyed her performance, which was interesting to say the least. The audience was separated from the stage by a transparent back sheet, acting as a bit of a filter. Thelma walked on stage, then, without warning, turned on a pair of electric clippers, completely shaving off her foot long golden hair. Some of her friends were in the audience, and even of them of them gasped at the site.
After the show was over, she explained that in two week's time she would be traveling into the mountains to cleanse herself and start anew. Hearing that put into context the shaving of her head.
Day 7 – Friday, February 10, 2017
On this day I dropped my dad off at the bus depot so he could return home to the Bay Area. Since the weather prevented me from seeing the Golden Circle two days prior, I did my best to see as many sights as possible. I shared photos from each, below, but highlighted the ones I found to be truly beautiful.
As I drove on road 35 around the Golden Circle, I felt so relaxed and at peace. There were fields of black lava rocks, covered in a deep green moss. Fields of grass yellowed from the cold weather covered much of the land. Peppered throughout the fields were small houses. I found myself wondering who lived there…well, it was more thoughts of who would want to live in the "middle of nowhere." As I continueed to drive, however, I was taken by how beautiful it was. The air was cool, and crisp. The sky was gray. It even started to snow, ever so slightly. This beauty caused my perspective to shift. My questions went from Why would someone live out here? to, Why wouldn't someone live out here? Why do I live where I do?
Ingolfsfjall
Kerid
Solheimar Eco Village
This was on my list of must-sees in Iceland. Nestled in a rural area, Solheimar is a self-sustaining compound that houses adults with disabilities. This place was awesome. I could literally spend all day explaining everything that they do, but it would probably be easier to check out their website!
Some of the highlights included roofs insulated with hay, greenhouses to grow food, and a learning center that focuses on plastic pollution.
Blaskogabyggd
I was driving away from Solheimar and happened to notice a small road sign with a snowflake on it. There were no other details. I am so glad I pulled off the road because this waterfall was massive (at least I thought it was), and I was able to walk right up to it. I could have easily missed this, but am glad I didn't.
Geysir
Gullfossvegur
This waterfall put the last one to shame. It was huge! it was also pretty crowded, which made me a little sad. At the time of my trip, there were no rails or fences keeping people from falling off a cliff or into the water and over the falls. Instead, knee-high cables ran around the perimeter of the falls. It was well and slippery out, but it didn't seem to stop people from walking right up to the ledge to take selfies. I hope no one has slipped and fallen, although I'm sure it has happened or will in the future. Iceland thrives because people follow the rules without a large police or regulatory presence. My fear is that, over time, if enough people slip and fall off the cliffs and into the water that they will eventually put up larger fences, ditracting from its beauty.
Secret Lagoon
I stopped by, since it was on my way, but didn't pay the entry fee. At $25, it was less than half the price of the Blue Lagoon, but was about the size of an olympic swimming pool. Since, at that point, I had already been in a public pool and a handful of hot springs, I didn't see the need to go into this one. It had also been a long day and I still had an hour-and-a-half drive to the guesthouse.
Before I left, I  did make a point to check out the facility. There was a self-guided walking path complete with signs explaining how the hot springs works.
Hrutafel Guesthouse
As I had previously mentioned, this was a bit of a last-minute trip, so I didn't have much time to plan. I knew that I wanted to get out of the city, but didn't know exactly where to go. I ultimately decided on sticking to the South Region, which I read had a lot of beautiful things to see. There weren't many hotels in that area, so I took to AirBnb.
The huge increase in tourism has led to a housing shortage. I was fortunate enough to find the Hrutafel Guesthouse, about a half-hour west of the town of Vik. At about $100 per night for a room with two beds, it was about as reasonably priced as I could find.
My dad and I were supposed to stay there from Wednesday to Friday, but the adverse weather on Wednesday caused us to change out plans.
I reached out to Armann, the owner of the guesthouse, to see if I could come on Friday instead. Fortunately he was not fully booked, and agreed to allow me to come then. I am grateful for his flexibility, which could have been a $218 mistake.
Day 8 – Saturday, June 11, 2017
Knowing that I had a lot to see for the day, I got an early start. It was a solid three hour drive to the Iceberg Lagoon, without taking into consideration sightseeing opportunities. If I were to have done it again, I probably would have found a place to stay closer to the lagoon to minimize the amount of driving that would be done in one day.
Skaftáreldahraun (Katla Geopark)
There were several lava fields around, which I found to be very distracting while driving. This one, in particular, is the result of one of the largest lava flows in recorded history.
Diamond Beach (glaciers washed ashore) and Jokullsarlon (Iceberg Lagoon)
I had mixed feelings about this area. It was sooooo incredibly beautiful, but the it wasn't clear to me to what extent global warmed had on the beach and lagoon. Located at the base of Breiðamerkurjökull Iceberg, the lagoon and beach are a direct results of chunks of ice breaking off from said iceberg. Assuming nature continues about its cycle naturally, I guess it would mean that over time the iceberg would replenish itself. With the earth getting warmer, however, my fear is that one the iceberg fully melts, it will be gone forever.
In the meantime, I enjoyed its beauty.
Svartifoss
Unfortunately I couldn't access this waterfall because it was roped off. Yes, it was possible to walk around the rope, but I wanted to make sure I respected their rules. If enough people were to ignore the signs and hike to the waterfall anyway, there would be the collective risk that we would all lose acces permanently.
Skeidararsandur
Remnants of a bridge that once ran through the area is now a monument, reinforcing the sheer power of Mother Nature. In 1996, the Vatnajökull volcano erupted, causing massive flooding. The bridge was equipped to handle flooding, but not the house-sized chunks of ice that destroyed it.
Dyrholavegur (lighthouse and arch)
This was probably one of the most beautiful places I visiting. Located on a bluff a few hundred above sea level, I was blessed with an unobstructed view of beautiful black-sand beaches to the East and West, mountains to the North, and the arch and ocean to the South.
I did my best to put into perspective the sheer size and scope of the area, but the photos just don't do it justice. The area was technically open until 7pm, but it was nearly completely darkness around 5pm. It was nerve wracking enough to walk to within few feet of a 200 foot cliff without a railing, so I couldn't imagine being up there in darkness.
Solheimasandur Plane Wreck
In November, 1973, a US Navy DC-3 airplane made an emergency crash landing off the south coast of Iceland. Fortunately the handful of people onboard survived. Nearly 43 years later, the wreckage remains. This got me thinking; how much junk has our military left abandoned around the world? We should have immediately recovered the plane and recycled as much as possible. To have a peaceful, sustainable world, we must respect both the environment and our neighbors.
I chose to do this hike alone, at night, which in hindsight, probably wasn't the wisest idea. As I walked to the wreckage, everyone else was returning to the car park.
By the time I reached the plane, it was pitch black. I heard waves crashing on the shore. In that moment I felt completely alone. There was something about that self-isolation that creeped me out. It's one thing to be alone within a stone's throw of my car, shelter, or some other form of safety. This wasn't that. Instead I was alone, in the middle of nowhere, close to the ocean, in an area where weather can change at a moment's notice, without warning. Needless to say, I huffed it back to the car.
Day 9 – Sunday, February 12, 2017
Every morning for breakfast, at 8am, Armann would put out bread, cheese and fresh milk from his dairy cows. Even before I stopped consuming dairy, I wasn't a fan of milk. I thought it tasted weird and prefered either no milk or almond milk. That being said, I tried it. The milk had literally just finished cooling and was unpasteurized. It was tasty, but not something I would consume on a regular basis.
There were two women at the guesthouse who were planning on checking out the same places as me, so we decided to carpool, then caravan.
Solheimasandur Plane Wreck
Hiking to the same place, but during the daylight, was a completely different experience. It was also nice to have others with me, in case something unexpected should happen. Having travel companions for the day was also helpful to get better pictures (or at least pictures with me in them).
Solheimajokulsvegur
(waterfall I couldn't walk behind.)
Hrutafel Guesthouse:
We returned to the guesthouse to pick up my car, then spoke with Armann for a while about his farm and growing up in the area. He has five children, ages 11-24. He said his oldest used to work on the farm, but "has other interests now." He is about to start hosting someone from the website Workaway. He has 31 milking cows, a handful of meat cows (what do you call them?), a few hundred sheep (what is the difference between sheep and lambs?), and 30 horses. A few of the horses have been tamed for riding, most eat the grass and help fertilize the soil, and although he didn't say it directly, it sounds like he raised a few for eating. He said that horse meat is best from horses that are under one year of age. During the summer months all the animals roam free, but in the winter it only the milk cows that have recently given birth (they get 6 weeks off from work) and the horses, which he says choose to spend most of their time outdoors, even in the harsh weather. He harvest the lambs' wool in November and sells it to a yarn-maker. During summer he harvests the grass that has grown from the extensive rain and dries it to make hay. There are large bundles of hay wrapped in plastic peppered (or in this case) salted over the landscape. He has 100 hectares of open land for grazing and hay production, and 10 hectares of corn; the animals eat a combination of hay or grass and corn.
Armann grew up in the home that is now the guesthouse. His grandfather built it in 1937. He converted the home into a guesthouse about year ago and said he is doing better than he expected. He rents 4-5 rooms per night during the winter month and all 6 rooms every night in the high season. The minimum wage is about $14/hour and his guesthouse is bringing in a relatively passive income of $400-600 per night, every night.
He has a pet fox. It seemed to get along just fine with his dogs. he said it would eventually return to nature, but I was skeptical.
Seljavallalaug
One of Iceland's oldest public pools, it is basically unmaintained now. Many people complained online that it isn't hot enough, but it feels like a warm bath, unless you are at the spout, in which case it comes out very hot. This was a must-see.
Seljalandsfoss
Waterfall you can walk behind. Tall and beautiful. I got pretty wet.
Reykjadalur Hot Spring
This was the second time I had been there. This time I stayed in the water for about a half-hour. The hot spots were hit-or-miss. It was nice and fun, but I wouldn't have done it again had it not been for Winnie and Ashley expressing interest.
Couchsurfing
Slept on Hanna's couch from Couchsurfing; beautiful view of Downtown Reykjavik from the East. She lives about 4 miles from DT
Went to a bar and then to a strip club where her friend Elva works. They corrected me a few times, saying it was a Gentleman's Club. Entrance is to a sports bar. This was the only place where I found beer for 8000 ISK, but I can assure you that this was probably the most expensive place you could drink. Women were sitting at tables and the bars waiting for men to arrive. They were dressed pretty conservatively, considering the location. Hanna's friend Elva was wearing a red sheer top, that showed much of her midriff,  but even she was mostly covered up. In Iceland, men come in, order a drink, then select the woman they want to hang out with. She leads him upstairs to a VIP room where he is supposed to buy her a drink (or drinks) and get to know her. It is there that the stripping happens. Elva was a little vague as to what actually happens, but offered to introduce me to her friend, who she said was the most beautiful woman in there. Her friend was, tall and thin, but not too thin, with long dark hair, pulled back into a tight pony tail. She was dressed in what looked like a sexy business casual, with slacks, a well-fitted grey turtleneck and coat. I was told that most of the women were from Latvia. She looked Eastern European. She was beautiful.
I am sorry to disappoint, but I decided to be the ultimate gentleman and opted out of partaking in the experience. Hanna later told me that you are pretty much obligated to purchase a bottle of champagne for 7500 kroner.
I also learned that cigarettes are sold in most convenience stores, but they are not allowed to display or market them in anyway. Smoking was not allowed indoors anywhere.
We spoke about politics and geothermal energy. Her electricity and hot water bill comes out to about 4000 kroner per month, and this is for 24/7 hot water circulation. Her building looks about 40 years old. They currently discharge the water into the ocean. I have heard that they run it under the city streets first, to keep them from becoming icy, but I was not able to verify that. She said have been talking about recirculating hot water from the shower, sinks and toilet, through the heating system before discharging it.
Parking ticket 10,000 kroner, payable only in a bank. Reduced to 8,900 because I paid it quickly.
Day 10 – Monday, February 13, 2017
Hanna worked a few minute walk from her flat. We woke up at about 7:40am. Her fiancé and seven-year-old daughter were also there. Her fiancé left for work at about 7:50 am. We left her house at about 8:10am. Hanna works part time at a British grocery chain called Iceland. She works 8am to 12pm, but didn't seem concerned about being late. We said goodbye to her daughter, who started on her short walk to school, alone, and in the dark. Hanna said goodbye to me, then walked to work.
Drove to SAD Cars to drop off my very sad car. Logged about 1300 kilometers (it was 800-something miles). Drank coffee and wrote postcards. Walked to Red Cross store (2). Wish I had walked into these stores previously because they were filled with great things that were considerably less expensive than the retail stores that surrounded them.
Walked to Bank to Pay very expensive parking ticket; it was 10,000 ISK but they reduced it to 8,900 since I "paid it quickly."
Bought some candy at Bonus
Walked to BSI bus terminal and prepared my items. Road bus to airport with the girls I had hung out with the previous day, but didn't know they were on the plane. We hung out at the airport for a while before I went to my gate and boarded my plane.
LAX
Landing at LAX was surreal. After 10 days abroad, it was nice to be home, yet I felt like there was still more to be seen.
After clearing customs, I hopped on the bus and headed home. Since I landed during the evening commute, it took awhile. as we crawled North on the 110 freeway to downtown LA, I observed the beautiful sky, whose sun had recently set. It was good to be home.