…or to squat or to stand.
It has been nearly two-and-a-half years since I blogged about Sheryl Crow's toilet habits (link: Sheryl Crow Uses One Square of Toilet Paper, How About You?) and boy how time flies. I, like approximately 98% of people reading this, always used a paper seat cover when using public restrooms. They were, of course, providing by management for your protection. We all bought (and continue to buy) into the notion that we need a physical barrier to protect us. And, when no physical barrier is available (as in there are no set covers available, we become all kinds of crazy. A buddy of mine told me he used to see on just one cheek to minimize exposure. Another friend used to squat on the seat of pit toilets in Taiwan where she grew up, which worked great until she slipped and felt in to her armpits, which broke her fall. Then of course there are many people (who will remain nameless) who just won't go in public toilets at all.
I listen to a lot of podcasts
Flash forward from December 2015 to a few days ago and I'm on the train listening to a podcast. It ended, then, without warning, the most recent episode of Every Little Thing by Gimlet Media came on…
Public Toilets: To Sit or To Hover?
A reasonable question, right? As it turns out, close to 98% of us use a seat cover. It also turns out that as I uncovered in my original post from 2015 that this paper seat covers do nothing to protect you from exposure to fecal matter or bacterial or urine on the seat or anything us. In fact, a public toilet seat is no more or less dirty than the floor in your home! Don't believe me, here is a link to the expert microbiologist guest's website, The Microbiome Center.
A quick question: Do you use a paper seat cover?
I don't! Nope, I just sit down and do my thing. TMI? Maybe. I'd like to think I'm just being real. And, I'm not stopping there! When I am out and about I still use toilet paper, but at home I recently installed a bidet. I plan on sharing this amazing new gadget on Instagram, but haven't done it yet.
It's pretty unbelievable just how many bidets are out there on the market. Some do back and front, hot or cold water, a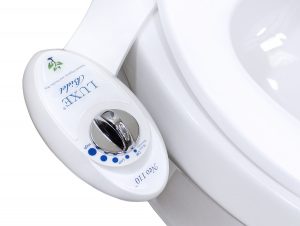 heated seat, or even a blow dryer! I, however, opted for a pretty bare bones version. No power, and no real moving parts, so I have a feeling this attachment will last a long time.
I'll make a separate post on bidets later, but if you're interested in buying an attachment for your home, here's a link the one I have: Luxe Bidet Neo 110.
One more thing
If you are interested in trying toilet paper made from bamboo and support a socially-driven company, feel free to try toilet paper from Who Gives a Crap? Click this link for $10 off your first order.