Back in June Toyota's public relations firm invited me to attend their Zero Waste Day event. The purpose of the event was to showcase their alternative fuel vehicle, the Mirai. I, along with three social media influencers, each drove a Mirai from the Toyota Auto Museum in Torrance, CA to Toyota's fueling station at the Port of Long Beach and then onto the SOCO Farmers Market in Costa Mesa.
At the Port of Long Beach we got to see a fuel cell big-rig in action. This thing was so cool! My only regret was that they wouldn't let me take it for a spin!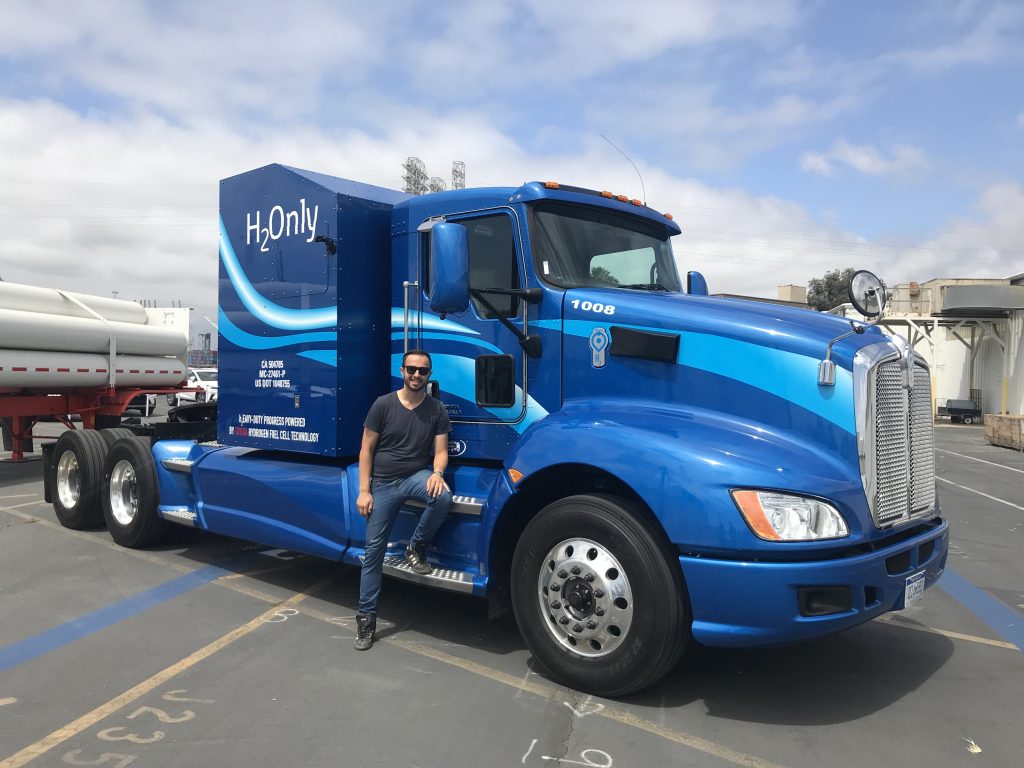 The Ports of Long Beach and Los Angeles collectively import about 40% of all products from overseas. Between container ships, the big rigs that transport and containers from the ports and the drilling and refining of oil, the Southland, as it is know, has some of the absolute worst air quality in the country. Toyota is tackling this problem head on with their prototype fuel cell big rig that will have the tailpipe emissions benefits of an electric truck, but the ability to refuel in about a half hour (they are currently working on getting it down to 15 minutes). If every tractor leaving the ports were to be run with zero emission drivetrains, the overall air quality in the LA Basin would improve dramatically.
After the tour of the Port, we then took to the road and headed to the SOCO Farmers Market in Costa Mesa. The influencers who participated alongside me were all super sweet and aware of their environmental footprints, but weren't familiar with zero waste lifestyle principles. I took advantage of this opportunity to show them how I zero waste my farmers market experience. I did this by bringing my reusable produce bags (Toyota provided us with some too), a tote bag, and mason jar. They seemed impressed and supportive of my efforts to avoid single-use plastic bags and cups while at the farmers market.
At the conclusion of this event, Toyota offered to let drive a Mirai around for up to a week to see what I thought of it. I was not compensated for this, but was given use of a 2018 Toyota Mirai and asked to write a blog post on my experience.
About the Toyota Mirai
The Mirai runs on an electric drive train powered by hydrogen fuel cell technology. This is an interesting car because it has the feel and power of an electric car, but the refueling flexibility and speed of a more c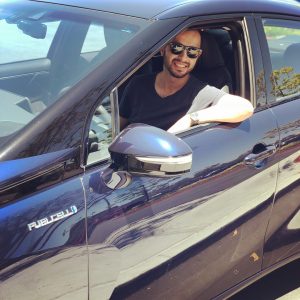 onventional internal combustion engine. What I mean is, you get the zero tailpipe emissions benefits of an electric car, but the 3- to 5-minute refueling speed of a more traditional car.
As someone who lives in an apartment with no ability to recharge an electric car, this flexibility was something I was interested in investigating.
Here are some stats and features on the Mirai as stated by Toyota:
Mirai's only emission is water and is automatically released while the vehicle is in motion or is parked
Mirai has an EPA-estimated driving range of 312 miles and an EPA-estimated fuel economy of 67 miles per gallon equivalent (MPGe)
Putting hydrogen into a fuel tank is similar to dispensing CNG or filling a propane tank, and sounds like filling a tire with air
The 2018 Mirai has an MSRP of $58,365 which includes complimentary fuel for 3 years and is eligible for a CA $5000 rebate and HOV sticker

HOV stands for High Occupancy Vehicle. What this means is you can drive in a carpool lane without a carpool.

From its futuristic, aerodynamic exterior styling to its luxurious, comfortable and quiet interior, the Toyota Mirai was designed to be as innovative as the fuel cell technology
The Toyota Mirai comes fully equipped with Qi-compatible charging, dual zone automatic climate control and intelligent touch controls
Fuel for the Fuel Cell
I am not savvy when it comes to how hydrogen is generated for the Mirai and other fuel cell vehicles, so I reached out to one of the Mirai's lead engineers:
What is the backstory of Toyota processing manure from Central Valley and turning it into fuel?
Toyota wants to move to 100% renewable, local/domestic fuel sources – and California's Central Valley has a lot of available biogas (biomethane). The company Fuel Cell Energy contracts for the biogas are still underway but the sources will be a mix from various agricultural operations. At this point it does not look there is availability for dairy derived biogas. Agriculture is a major part of the Central Valley's economy but also is responsible for a lot of greenhouse gas production. Capturing and using Central Valley agricultural biogas reduces that industry's greenhouse gas footprint.
How is the fuel transported?
Captured biogas is cleaned and injected into the natural gas transmission pipeline.
Where it is transported to?
From the Central Valley to Long Beach.
How is the manure converted into hydrogen fuel?
The biogas is turned into hydrogen, electricity and heat through a fuel cell made by Fuel Cell Energy.
How to Fuel Up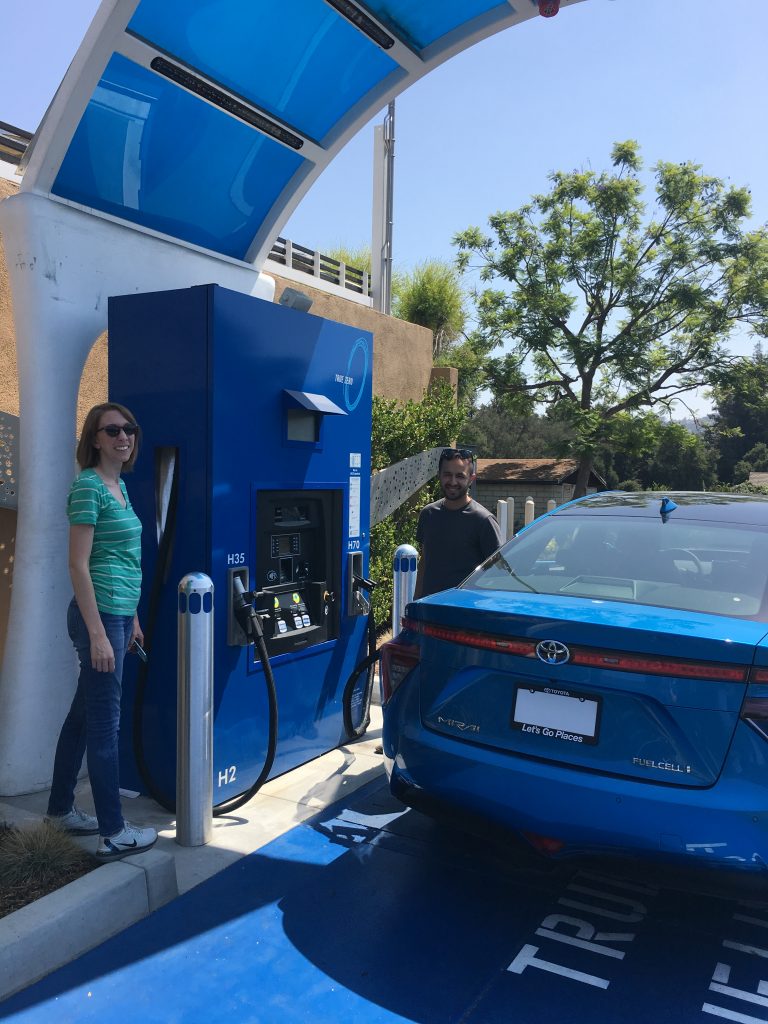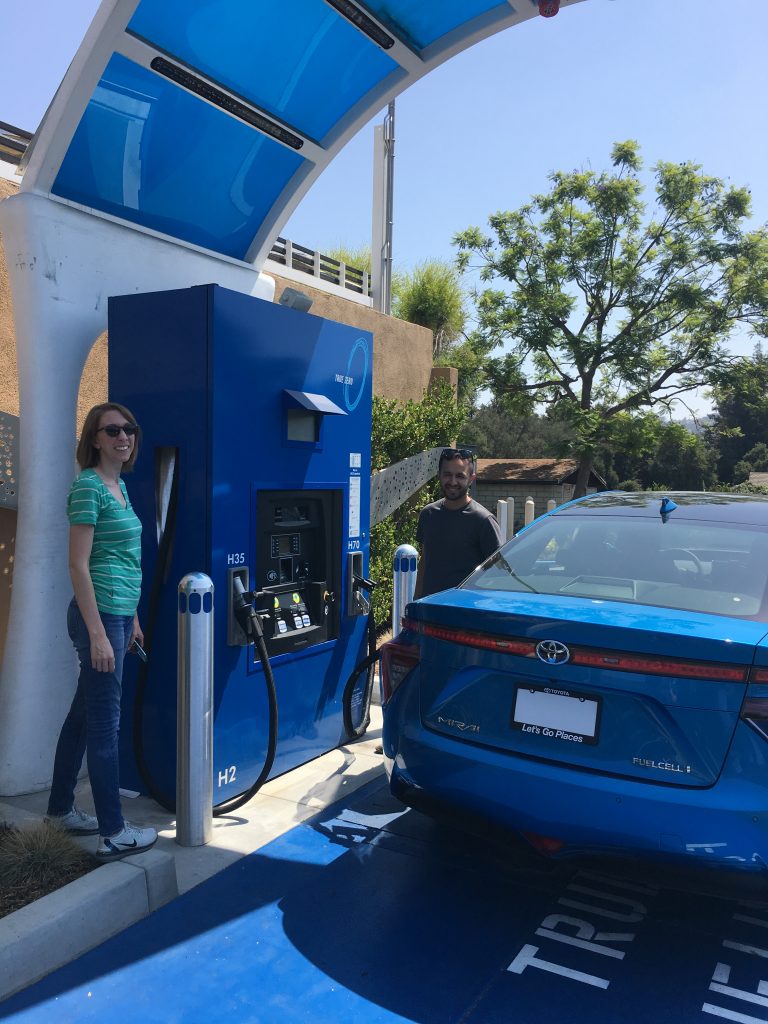 There was a bit of a learning curve, but overall, refueling the Mirai was a pretty straightforward process. Hydrogen tanks are pressurized at 10,000 pounds per square inch, compared to a normal gas tank which is not pressurized. This simply means that you need to pay a little bit more attention to the fueling process. Specifically, you need to make sure the fuel nozzle is properly secured to the valve so that the fueling will begin.
I refueled twice while in possession of the car. One big of transparency that I really liked was related to the sourcing of the fuel. On each pump there is a sticker that lists the source(s) of the fuel, such as from renewable energy or natural gas. The sticker compares the environmental impact of fueling from that particular station compared with other sources, such as operating an electric car or gasoline engine car. Compared to refueling at a traditional gas station, this level of transparency is a great step in the right direction.
One thing to note was the disclaimer on the pump. Hydrogen is kept at a low temperature,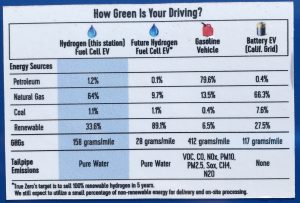 so there is a chance that the fuel nozzle could freeze to the car! If that were to happen, they recommend having some patience until the temperature of the nozzle warms up enough to be able to separate it from the vehicle.
Honestly, the biggest challenge of driving a fuel cell vehicle at the present time is the number of locations. Driving the car was a total blast, but I was definitely more aware of the location of fueling stations and the car's distance to empty at all times. This is something that I am sure I would get used to if I owned one, but was definitely something that I had to absolutely be mindful of. Here is a list of all the fueling stations in California: California Fuel Cell Partnership
High Desert
For those of you who don't know, my day job is as a project manager for an environmental consulting firm. We specialize in municipal solid waste, which is all the material generated in homes and businesses. One of our clients is a regional grocery chain with stores throughout Southern California. I had to take a trip up to their High Desert location to take a look at the contents of their trash compactor as it was being emptied at the landfill.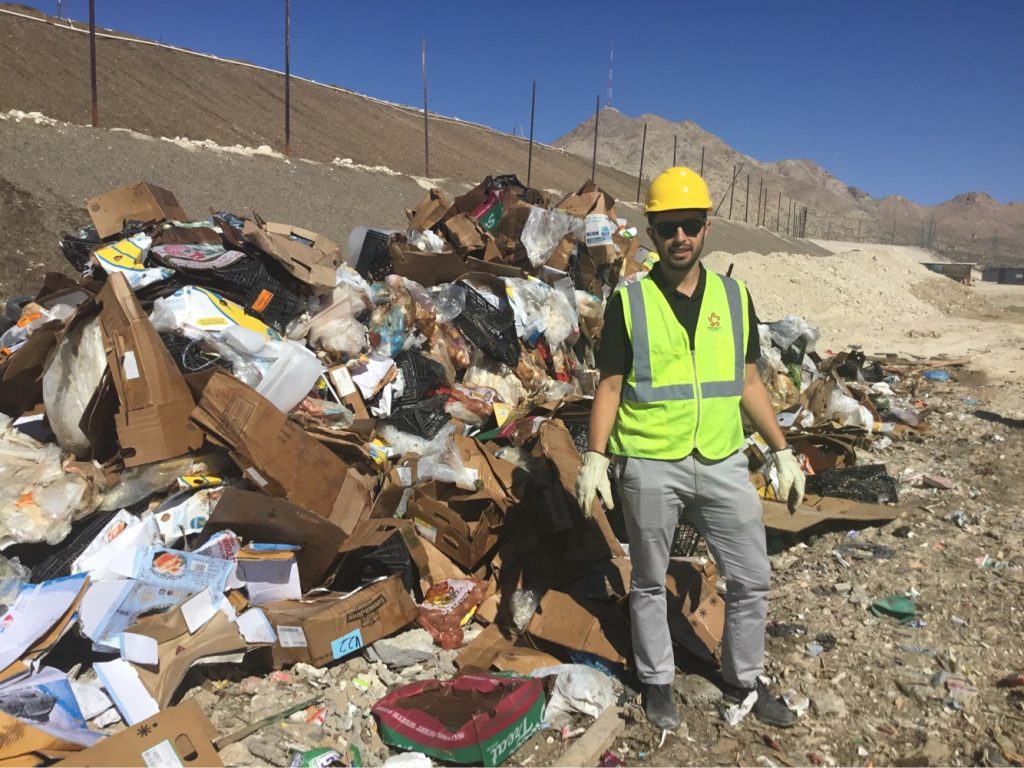 I was planning on going out of town for the Labor Day weekend, but thought that taking the car a day earlier to see how it performed up the Cajon Pass that connects the Inland Empire with the High Desert. For those of you who are unfamiliar with the area, Highway 15 ascends about 2500 feet over 40 miles with a few sections that are pretty darn steep. Electric motors have what feels like unlimited torque, allowing the car to fly up the pass!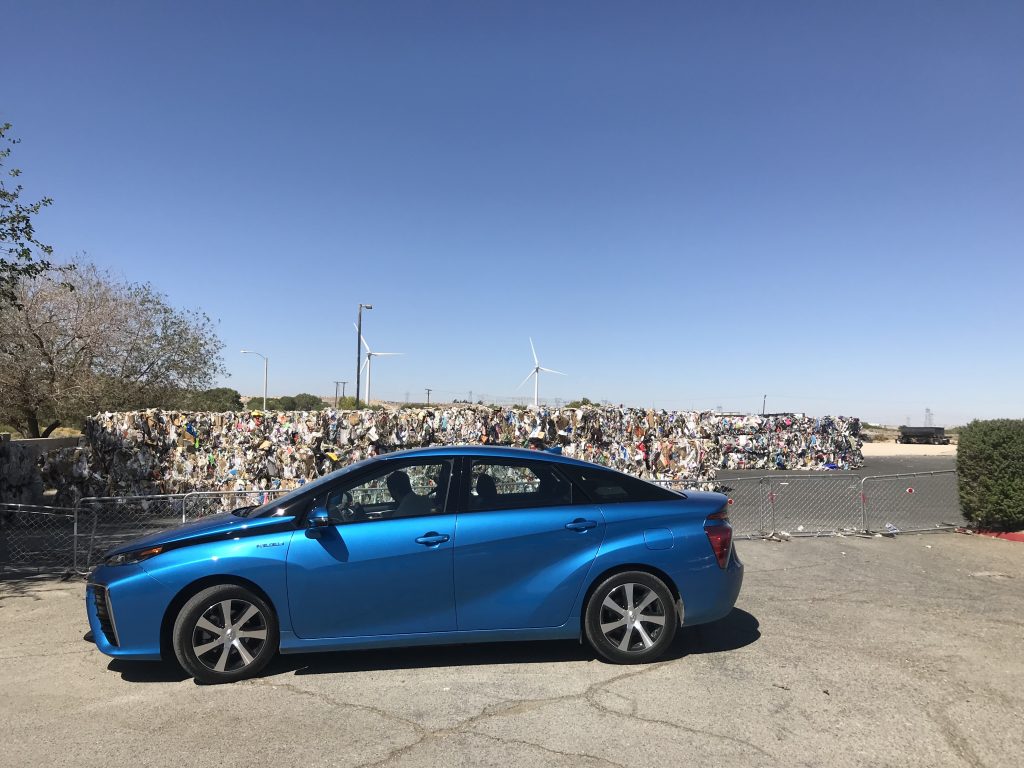 From the Cajon Pass, I stopped by my client's location in Victorville, CA, before heading to that City's municipal landfill off Stoddard Wells Road in the outskirts of the city. In case Toyota is wondering, the car did just fine at the landfill!
Heading back down the hill later, it was quite fascinating to watch the car's regenerative charging system recharge the battery.
Central Coast
My friends and I had originally planned to take the car camping at Crystal Cove in Orange County, but my friend's knee was bothering he, so we had to change out plans. We hadn't been to Lompoc, so we thought it would be a scenic drive up the California Coast that would allow us to check out the car's range and performance capabilities.
We had a great time driving up the coast. The weather was great and the car was smooth, responsive and quiet. Honestly, the only "challenge" of driving the car was having to be mindful of the car's range and the location of fueling stations. Presently there are only a handful, relative to the number of traditional gas stations, but I'm sure that number will increase with time as the car gains traction. There was an unintended benefit of having a less developed fueling infrastructure though–we had to plan out our trip in advance to make sure we would have an adequate range. This cause me as the driver to be hyper aware of my driving habits. As a result, I maintained a safety speed on the highway, accelerated with a more gingerly foot, and focused on coasting and more tempered braking to maximize the car's regenerative charging system.
Final Thoughts
The car was a lot of fun to drive. It was quite, smooth and responsive. I had a blast driving it. I love my Prius, but there is nothing like driving a car without a gas engine. Have you ever been on a superman-type roller coaster ride? A ride where you accelerate from zero-to-fast in just a few seconds but you don't know how you got there? This is that car.
Urban pollution is a complex issue and there is no one perfect solution. Instead, we need many solutions. In Southern California, we would all benefit from more people carpooling to work and riding public transportation. But we also need more people in cars (and trucks) that generate low-to-no tailpipe emissions. Electric cars do the trick, but so do fuel cell vehicles.
When it comes to climate change, I am both hopeful and optimistic, so long as there are companies such as Toyota and others that are continually pushing the envelope!